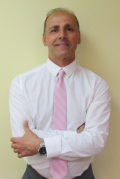 A Veteran Realtor and Broker with 3 decades of experience and service. Joe is one of the most recognized and respected real estate agents in the Middlesex & Union County area. A top million dollar producing agent and client favorite, Joe offers unsurpassed marketing, communication and negotiating skills with up to the minute comprehensive marketing knowledge, honesty, integrity and a keen eye for details. One major advantage he has in this business is good relationships with other agents in these areas. His colleagues continually commend him for his work ethic and level of professionalism, which translates into great cooperation from other agents when negotiating on behalf of his clients. So weather your looking to buy or list your property you can expect from him. Innovative thinking, superior negotiating skills, creative marketing, and pleasant to work with. Has a thorough understanding as well as firsthand knowledge of the Middlesex and Union County areas.
Joe and his wife Christine and their 3 children grew up and live in the Colonia section of Woodbridge Township. Joe has been very involved in the local sports programs, and my wife, 3 children, and myself attended Woodbridge Township schools. "I truly enjoy helping people making one of their most important decisions in their lives."
Here are some of what my past clients have said:
Mr.Joseph Cimilluca helped us to find our first home in several weeks. For our first time buying a home, we had little knowledge or experience to evaluate the value of a house. His expertise helped us a lot.
Several points 1. Easy to chat with and clearly knows his profession's ins and outs. 2. Quick response for any question we have; 3. Always tells the truth.
We will definitely use him again when we decide to buy/sell in the future.
Kevin
Joe Cimilluca is an outstanding real estate Broker Associate. His knowledge and expertise of the field is incredible. Joe is extremely professional, precise and helpful. He listed and sold my home within a few short months. I highly recommend Joseph Cimilluca for any and all real estate transactions.
Mr.Joseph Cimilluca helped my family find a home to rent in less than 30 days, and the house we wanted was the one we rented. He is very good, helps