CENTURY 21 Main Street Realty is made up of diverse cultures and provides service in many languages: Chinese (Mandarin), Greek, Hindi, Italian, Panjabi (Eastern), Spanish, Tagalog, Urdu.
"Today our area is multicultural so you have be kept abreast of the traditions that people have. We understand numerology is very important as well as the direction of a home, if it is on a 'T', if the front door and the back door line up, and many other cultural wants and needs. What is important to you is important to us as we are looking to find your best fit." . . . Broker Barbara Sancilardi
CENTURY 21 Main Street Realty embraces technology and utilizes all resources to ensure client's needs are met with no compromise to the personal connection.
"I have a saying you either have to embrace it or you're going to be a dinosaur, and what happened to the dinosaurs, they became extinct. There is still that personal touch that everybody wants and needs because typically this is the largest investment that anybody will ever own in their lifetime. If you're going to be investing in something that is so important you want to be sure that you're hiring the right person or the group of right people (your REALTOR®, home inspector, attorney, mortgage representative) to make sure that it goes smoothly. You want to have someone who is experienced and is knowledgeable. Knowledge is power." . . . Broker Barbara Sancilardi
To provide you with the best listing price for your home our agents research and prepare a professional opinion of the value of your home. We then work to bridge the gap between the buyer and seller by educating both parties. CENTURY 21 Main Street Realty provides the expertise and negotiation skills needed for buying and selling success.
CENTURY 21 Main Street Realty assists with Corporate Referrals. We are very knowledgeable and have had great success in providing specialized services to transferees. From the time you first visit the area to when you close on your house we are here to make the transfer easier for you and your family.
For the third consecutive year, the CENTURY 21® brand ranked highest in customer satisfaction across all four home buyer and seller segments, including: first time buyers, repeat buyers, first-time sellers, and repeat sellers.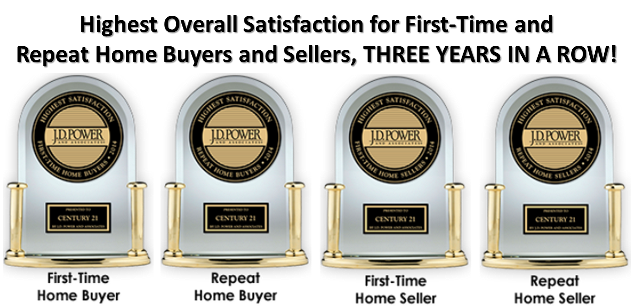 The CENTURY 21® brand received the highest numerical score among 5 real estate companies for first-time home buyers and sellers, repeat home buyers and sellers (in a tie for repeat home buyer) in the J.D. Power 2014-2016 Home Buyer/Seller Satisfaction StudySM. 2016 study based on 1,453 total responses, measuring the perceptions and experiences of customers who bought and/or sold a home between March 2015 and April 2016, surveyed February-April 2016. Your experiences may vary. Visit jdpower.com
CENTURY 21 Main Street Realty is able to help buyers and sellers throughout the State of New Jersey, but calls Middlesex County home. Broker Barbara Sancilardi was born and raised in Woodbridge Township. She lived in Fords until 19 then moved to Colonia.
Woodbridge in Middlesex County is one of the most convenient places to live in Central Jersey. It's called the crossroads because every main thoroughfare comes through Woodbridge -- 287, Route 1 & 9, Turnpike, and Parkway. You can be in Manhattan in 40 minutes, and at the Jersey Shore in 40 minutes. New Jersey Transit trains and buses make it convenient for those commuting to the city for work.
Contact Us for exceptional and personable service!