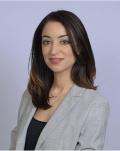 I grew up in Carteret NJ, graduated from Carteret High School. I spent my childhood dancing as a gymnast in Carteret Center for Creative Arts. I enjoy spending my spare time down south jersey at the beaches and boardwalk. I love dogs and yoga!
Licensed Real Estate Agent with a history of over a decade in the sales industry. Skilled in Advertising, Sales and Marketing. Bachelor's degree focused in Business Studies with a minor in Sociology from Kean University.
Excellent Communication skills with a friendly empathetic nature. My goal is to specialize in the sale of new and existing homes in desirable communities.
Second language: Some Arabic.
Zina Elsayed
732-910-2143
Zelsayed87@gmail.com