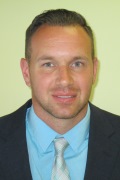 Looking for a Real Estate Agent?
Someone that understands your goals, dreams and expectations and is willing to guide you through your next chapter in life. Clients choose to work with Tom for his service, experience & expertise. Tom has consistently shown the ability to satisfy clients in the home-buying & selling of their homes.
"I believe real estate is about more than buying or selling a home. There is a level of trust needed and I treat each home as if it were my own. Listening to my clients needs and striving to exceed their expectations by providing excellent service is my number one priority. I welcome the opportunity to work with you and achieve this exciting next chapter together"
- Tom Joraskie
Personal Background:
Tom is a lifelong resident of Woodbridge, NJ & has now been an educator in the Woodbridge Township School District since 2009. He is a graduate of Woodbridge High School & from there went to Stockton University, receiving his Bachelors Degree in Communications (Marketing/Advertising). Continuing his education at Kean University, Tom earned his Teaching Certification. The father of two children & married since 2011, Tom & his wife currently reside in Woodbridge Township.
Thomas Joraskie
732-841-5470
Trj1124@yahoo.com
Thomas's Customer Testimonials
Tom Joraskie - was very professional and knowledgeable

Tom Joraskie - His pricing of our home was spot on in fact we had a bidding war which Tom kept us informed of. Everything went amazingly smooth. His knowledge of the comparisons in the neighborhood was very conforting in our decision of the asking price.

Tom Joraskie did an outstanding job