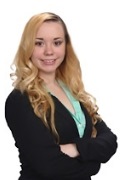 I have spent my entire life living in Woodbridge, New Jersey, where I attended Woodbridge township schools, and studied at Middlesex County College before moving away to attend the University of Hartford in Connecticut. I studied Business Administration along with Small Business Management/Entrepreneurial Studies, and have since fallen in love with the world of business!
I spent my years in college managing a printing and photography company, working in customer service management, and eventually working in advertising and account management - and easily became the highest ranking woman in my office having always exceeded personal and company sales goals.
So why real estate? Well, that's easy! I love the business! I'm a second generation REALTOR® and third generation in the business; having practically grown up at Century 21 Main Street. It's easy to say I am the youngest REALTOR® associate, yet still manage to have 15 years in the business!
Helping people start the next chapter in their life is incredibly rewarding, I'm like a matchmaker - I bring people to their dream home! And I would love to help you next!
Patricia's Customer Testimonials
Trish (Patricia Butkiewicz) was a pleasure to work with. She took the time to educate me on the real estate process. She answered any and all of my questions in a timely manner and thoroughly. I was most impressed with her ability to determine market value of a property and aid us in negotiatins.

Patricia was very friendly and very understanding. She helped with everything we needed and was very accessible at all times. We would just like to say thank you and congratulations on this first sale!

Patricia is awesome, very responsive, very knowledgeable, has been invaluable in my real estate search and I can see she is going to be an extremely successful real estate professional who is incredibly dedicated to her job and career. I would highly recommend her to anyone and, indeed, I already have.