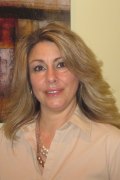 I was born and raised in Woodbridge Township, and have been a REALTOR® with Century 21 Main Street Realty for over 20 years.
There have been many changes with the real estate market since then. One of the biggest changes is the use of the Internet and Websites designed to aid in the buying and selling of real estate. It can be a useful tool at times, but it can also create what I like to call "information overload".
That is where I come in. I can simplify the entire process and have buyers and sellers feel comfortable with the entire experience. My motto is "Knowledge = Power= $$$$$$."