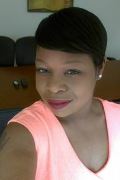 A Purposeful Life of Service
I'm a Woodbridge, New Jersey Native. I attended and successfully completed Woodbridge Vocational & Technical High in 1999. I continued my academic education attending Virginia State University. I furthered my Business career in Management at Kean University as Executive Manager for Kean Federation of Teachers. I expanded my career in the Real Estate profession further by receiving my certification in Property Management. I have 6+ years of successful experience in Property Management and Counting!
I have a Zest for life and I love helping others! I maintain a positive outlook and I stay flexible to accommodate the needs of others.
My Perspective;
To be of service is to become bigger than the way we normally see ourselves. Our attention shifts. We set aside our preoccupation with ourselves and turn our focus outwards, towards others.
I believe there is nothing more beautiful than someone who goes out of their way to make life beautiful for others.
The price of success is hard work, dedication to the job at hand, and the determination that whether we win or lose, we have applied the best of ourselves to the task at hand. I work hard to meet the needs, expectations, and specifications of my Clients. Tell me your Vision and Let Me be of Service to Fulfill it!
I believe in helping others wholeheartedly to achieve and accomplish their dreams and goals. I make Your Vision, My Vision. I won't rest until I've done my due diligence in finding your Dream Home or Selling Your Family Home. I have a strategic A to Z checklist that guides the Client from Signed to Closed.
I believe that one of the great ironies of life is this: He or she who serves almost always benefits more than he or she who is served. I'd Love the opportunity to be of service!